We truly appreciate the generosity of your donations which allow us to have this event.
Please check out our 2012 Silent Auction Brochure.

Donations we are looking for include:  Cash, Cakes/Pastries (for the cake walk), Bottles of Wine (valued over $20/bottle for Wine Garden), Toys (for us to sell or use at the games), Imprinted promotional items with the Ice Cream Social name on it, advertising or ways to increase attendance, and items for the Auction.

If you would like to sign up for a Cake Walk Donation, please tell us by signing up at SignUpGenius.com.  We need at least 120 pastry items, so it is best if we get sign-ups so we can keep track of the number of donations.  Also, we are working to get another preferred bakery on board who can deliver your order for you.  As soon as this is set, we can let you know.

Please click this button to sign up your Cake Walk Donation!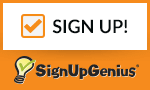 If you have an item to donate, please contact us.

Thank you!